OSHA Compliance in Construction — Who Oversees On-Site Compliance?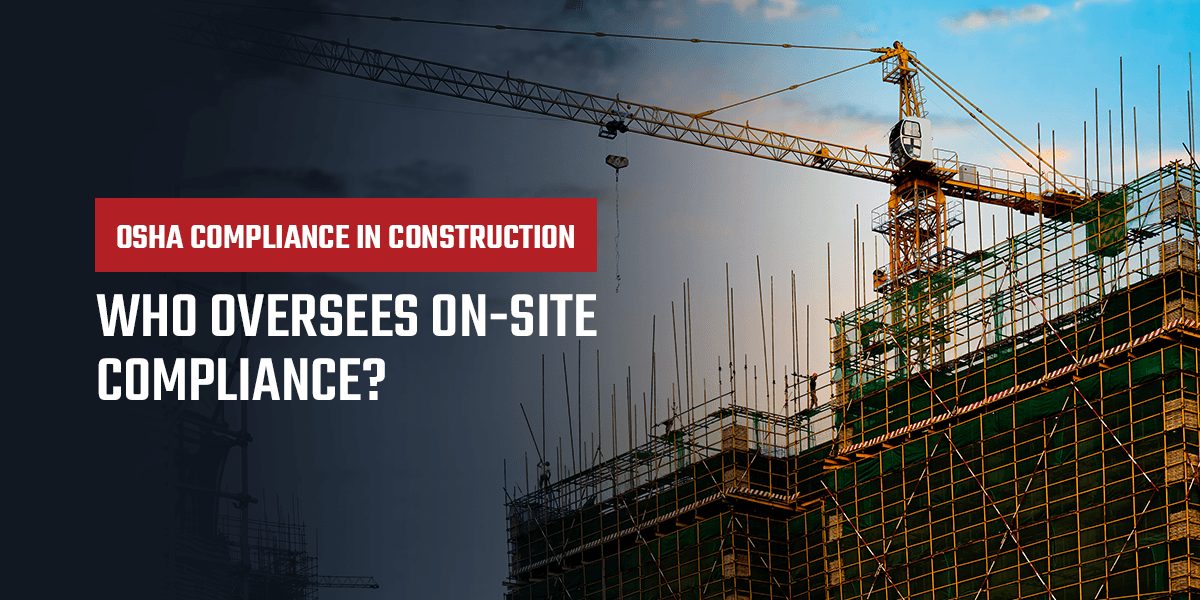 Every employee has the right to work in a safe environment, and employers need to designate specific people to ensure that happens. These people are a significant part of ensuring on-site compliance, especially in the construction industry, where hazards are plentiful, and job sites change continuously.
The Occupational Safety and Health Administration (OSHA) has many safety standards in place, so compliance might seem intimidating. But with the right preparation and resources, you can meet and exceed OSHA regulations and create a long-lasting culture of safety on and off the job site. Let's look at on-site compliance and how you can meet OSHA regulations on construction sites.
Who Oversees OSHA Compliance in Construction?
On the job site, OSHA compliance is primarily overseen by someone called a competent person. A qualified person can also help but has a slightly different role.
Competent Person Standard
A competent person is a crucial part of on-site compliance. This person can identify and predict hazards on the job site that could be dangerous, hazardous or unsanitary. They have the authorization to correct the situation and eliminate the hazard immediately. The job site's competent person typically demonstrates their knowledge with significant experience, but they don't necessarily need a recognized degree. There can be multiple competent people on a job site.
The competent person on a construction site is often someone like a foreman or supervisor. They shouldn't need to call a higher-up to approve a change and are considered a representative of the employer. This is part of why employers must take the designation seriously, ensuring their competent person is qualified for the job and understands the role. If someone spots a hazard, the competent person needs the know-how and the authority to stop the work, order corrective action or make some other kind of change.
Some tasks that fall to a competent person in construction include inspections and overseeing certain activities. They might:
Inspect the overall job site, rigging, scaffolding, fall protection systems and equipment.
Oversee tasks like excavation and scaffold erection.
Speak to OSHA inspectors.
Competent Person vs. Qualified Person
A qualified person is similar to a competent person but with a key difference — they do not have the authorization to correct or mitigate risks immediately. A qualified person has still demonstrated their ability to solve problems with a recognized degree or professional certificate, extensive subject knowledge and experience.
Qualified persons can design, analyze, evaluate and create specifications. They may have more technical knowledge than a competent person, but they won't necessarily be an expert in hazardous recognition or correction. For example, a competent person might identify a potential fall risk and instruct a qualified person to design a support system that mitigates the hazard.
In construction regulation, the qualified person has to have certification and industry experience and demonstrate proficiency in the work or project. Both qualified and competent people can identify potentially unsafe conditions, but the competent person can take action. A qualified person can also be a competent person but will need to meet the criteria for both.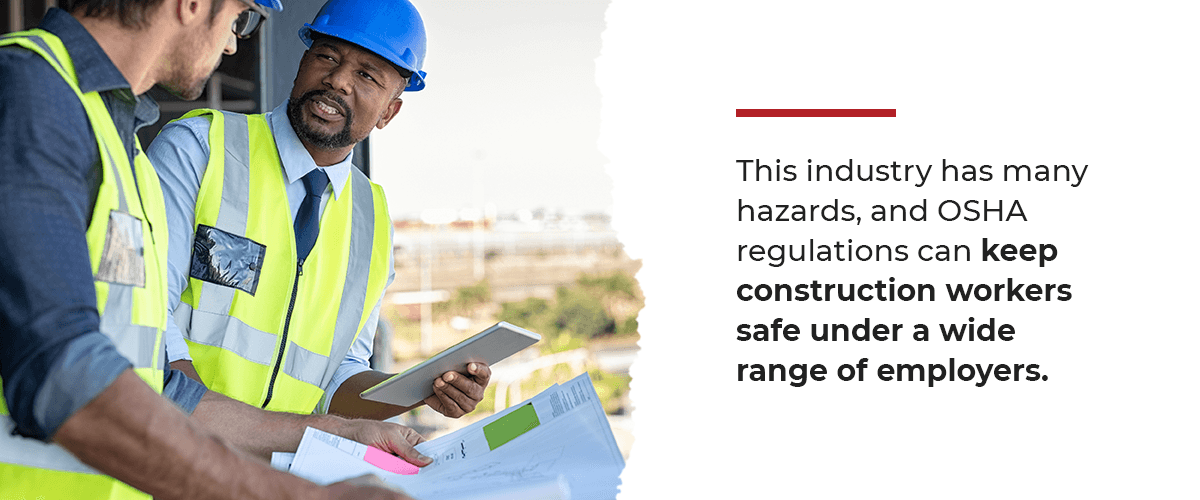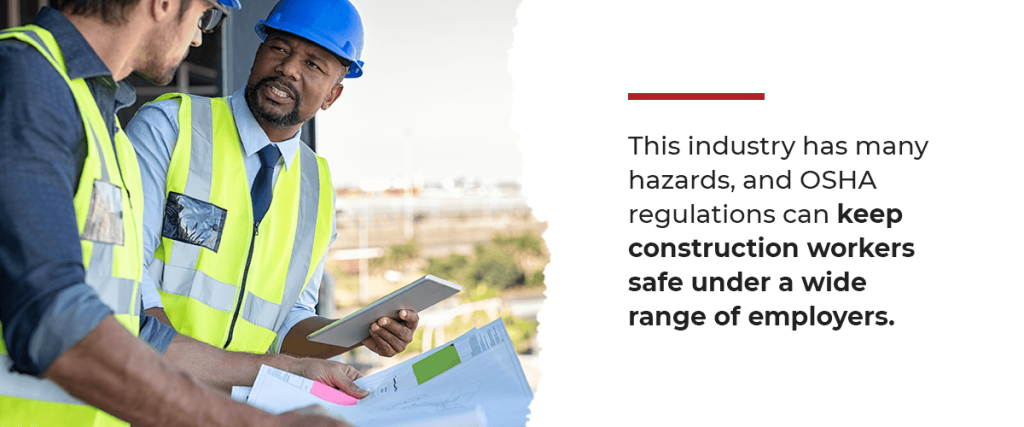 Who Needs to Comply With OSHA?
Businesses in all 50 states and certain territories and jurisdictions must comply with OSHA regulations. OSHA standards cover most private employers and the people who work for them and some public sector employees. These workers are either covered through OSHA directly or through state-run programs overseen by OSHA. In some states, coverage might be split, but OSHA is the final authority.
Those not covered by OSHA include self-employed workers and immediate family members of farm employers. Hazards covered by another federal agency, such as the Department of Energy or the Mine Safety and Health Administration, are also exempt from OSHA standards.
In construction, the employer must create a safe workplace, wherever that workplace is. This industry has many hazards, and OSHA regulations can keep construction workers safe under a wide range of employers.
OSHA Standards and Regulations — How to Become Compliant
Being compliant with OSHA is the first step in creating a safe workspace — something required by the General Duty Clause of the Occupational Safety and Health (OSH) Act. In addition to complying with hazard-specific standards, employers must provide a work environment free from recognized hazards that cause or are likely to cause death or serious physical harm.
Employers need to identify and fix hazards through physical or engineering changes before turning to personal protective equipment (PPE), rules or warning signs. Essentially, they must focus on changing the working conditions before making mandates. OSHA regulations also require tasks like displaying official posters and providing safety training, PPE and required medical testing.
Achieving compliance does more than protect you from violations. It also makes your workplace safer overall and can improve your bottom line. You can save directly through workers' compensation costs and liability insurance. You may indirectly benefit through things like happier employees and a better reputation. Companies that reap these benefits tend to view OSHA standards not as a limitation but as a support structure for making the workplace as safe as possible.
If you need to become OSHA compliant, start with these strategies:
Evaluate your safety program: Assess your safety program thoroughly. See how well it aligns with standards and workplace hazards. If you don't already have a safety program, create one.
Use your resources: Many resources are available, from simple OSHA resources like safety checklists to comprehensive consulting services. Private consulting gives you a personalized approach and considers your organization's unique needs and goals.
Focus on education: Training and certification are essential for creating a safer, healthier workplace. Revisit your education practices and consider implementing more education opportunities for your workers.
Fix problems immediately: If an OSHA inspector identifies minor errors, the organization must fix them immediately. You can adopt this approach in everyday operations, too. Fix problems as soon as they appear so they don't fall through the cracks.
Evaluate your leadership: Make sure your leaders play an active role in on-site safety. They should cultivate a culture of safety and lead by example, such as wearing their PPE and thoroughly explaining safety procedures.
Conduct regular safety tasks: Implement ongoing activities in your safety program that help you maintain compliance. These tasks might include daily meetings, weekly incident reviews and yearly audits.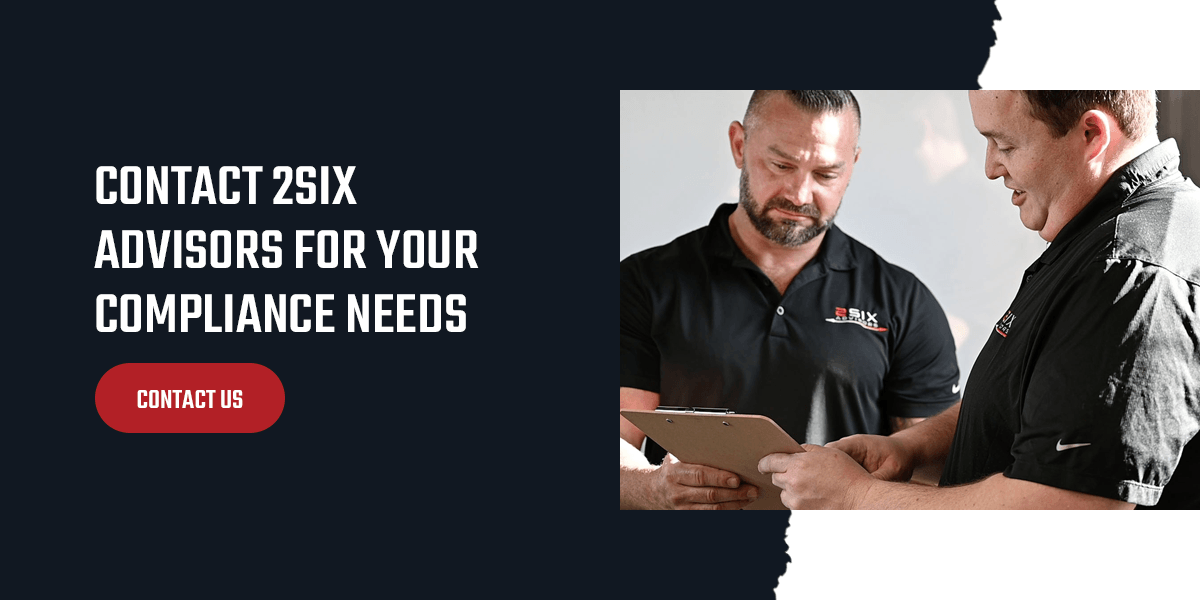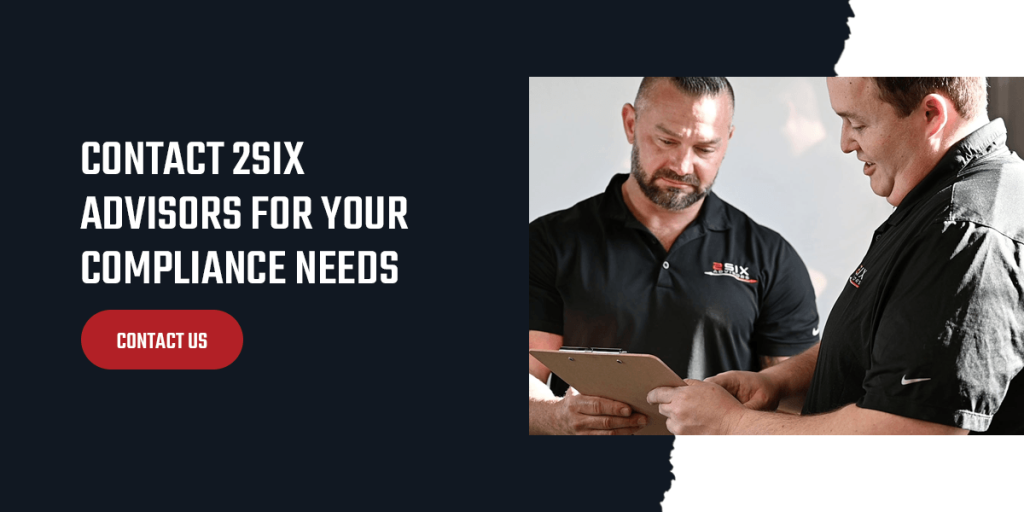 Contact 2Six Advisors for Your Compliance Needs
OSHA compliance is necessary, but it is only the minimum for creating a safe, efficient construction site. 2Six Advisors offers health and safety consulting with custom programs to keep employees safe, alert, focused and engaged. We look after your employees and your bottom line.
Local partners across the country help us deliver on-site support like hazard identification and site assessments. Our programs and consulting services can help with everything from basic compliance to emergency response planning and identifying responsible individuals on the job site.
Learn more about achieving OSHA compliance by reaching out to a safety and health expert today.