RiP Security Drone Technology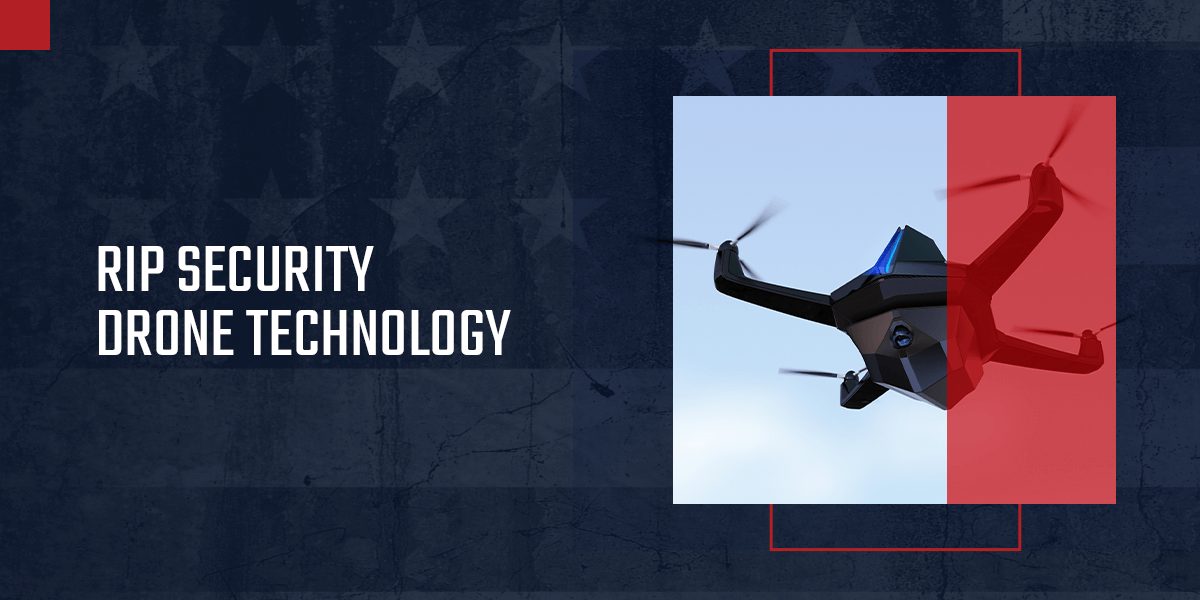 For most people, drones still seem like a new and foreign piece of technology. But in recent years, drones have proven themselves to be an incredibly practical tool for a wide variety of industries. At RiP Security, we have seen the incredible benefit they have on the world of security and surveillance.
According to the Federal Aviation Administration (FAA), there are currently 860,983 drones registered in the United States. It is important to make sure your drone is up to FAA requirements and that you have someone licensed to fly them.
How Can Drones Improve Security and Surveillance?
Drones find their history in the military, where a primitive version of the technology was used for combat and surveillance in the early 1900s. Drones bring a level of stealth to surveillance that only they can.
Though society's use of drones has extended far beyond the military, their unique benefits remain the same. Drones are able to evaluate perimeters and provide constant surveillance ⁠— a welcome difference to human surveillance, which is inevitably intermittent.
From a drone technology standpoint, they are getting smaller and more efficient as the technology evolves. Their camera systems are also getting better while their footprints are getting smaller.
Mitigating Hazards and Threat Detection
Our goal at RiP Security is to protect your facility from present threats and help prevent them before they begin. Drones are known to be capable of doing just that. Their constant surveillance capability prevents potential threats from being missed.
Their ability to get footage of otherwise uncapturable spaces helps officials and experts put more well-informed prevention efforts into place. Drone technology can help mapping to help experts know better how to prepare for situations, especially for disaster prevention.
Modeling and Mapping an Environment
Capturing mass data is easier and more convenient with the use of drones. The drones can be used to map out any infrastructure or terrain. In terms of security, this allows security personnel to have eyes beyond where they would normally be able to.
This benefits a wide variety of industries. Drone mapping can help build detailed aerial property maps, determine project borders, contour lines, locate resources and gather other details using the high-resolution imagery they can now capture. They can complete all of this and more without a human having to be present and without the risk of human error — an often unavoidable threat when mapping without drone assistance.
Another benefit of using drones to model an environment is the ability to program their flight and get consistent progress pictures because of the same flight path. This helps if working on a long project or examining a space after a disaster.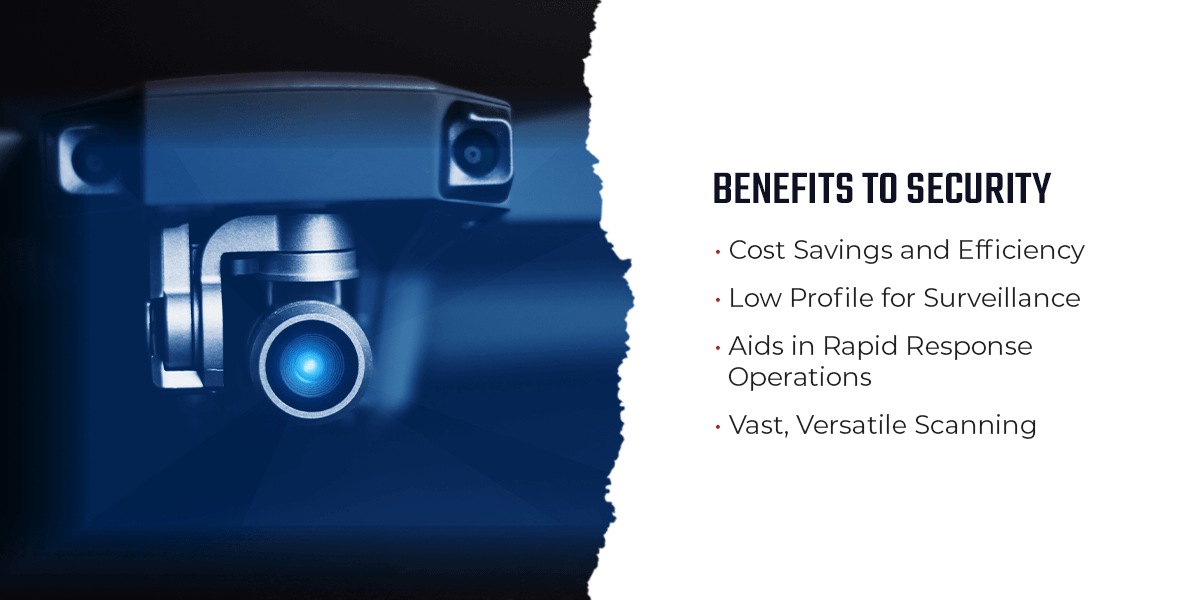 Benefits to Security
There are several benefits drones provide to security professionals by enhancing what they already do to protect those they are working for. Many security professionals already rely on drones for comprehensive security packages, and that trend will likely continue growing as the technology becomes more advanced and accessible.
1. Cost Savings and Efficiency
When you compare the cost of a drone to the cost of employing additional long-term security professionals to access hard-to-reach areas, it's a significant difference.
The cost of the drone itself does not compare to the human salaries it would replace, but you would need to hire an Unmanned Aerial Vehicle (UAV) pilot, whose average salary is around $81,000.
The most effective way to balance your company's financial resources and the need for comprehensive security is to work with an all-inclusive security company that uses a combination of person-driven and drone surveillance.
2. Low Profile for Surveillance
In terms of surveillance, a drone's ability to keep a low profile allows for top-notch surveillance that the average person cannot provide on their own. Drones are continuously getting smaller and more compact, therefore becoming easier for them to keep a low profile.
3. Aids in Rapid Response Operations
Drones themselves could respond to a scene much faster than humans. And though they couldn't necessarily do anything to help, they can transport supplies to manage the situation until trained security responders could get there. Drones can also send back information to people responding to a scene so they can more clearly understand what they are going into.
4. Vast, Versatile Scanning
Recent drone technology has introduced 3D scanning capabilities that allow them to use computer vision to create 3D models, color analyses and tower inspections. For some of these scenarios, the use of drones provides a level of safety that would be otherwise unattainable for security personnel.
RiP Security Drones
RiP Security provides several drone and aviation security services. We can provide your business with the on-demand security and logistics capabilities to help you succeed. We also have commercial pilots trained to use a wide variety of drone technology to provide the best solution for you.
We provide a number of drone services because we know each situation is unique. We have drones best suited to provide service for private individuals, agencies, businesses or any other size of organization:
Security: Our drones are capable of implementing your security program with pilots to help you gain a new perspective on many aspects of your business.
Mapping: We can implement drone mapping in any industry you desire. You will be able to get more details about your project or area without being there in person.
Facilities maintenance: Our drone services, alongside our trained professionals, will help you get a better view and a better analysis of your space to help you keep it safer.
Logistics: If road logistics hinder part of your business, a drone can overcome those obstacles and make deliveries that would otherwise be impossible.
RiP Security wants you to stay protected during dangerous situations, and we work to mitigate hazardous workplace or security threats before they begin. Our drone services help us provide the best protection we possibly can.
We want to be at the forefront of this technology, which is why we partner with drone companies with that same priority.
RiP Has Partnered With AERAS for Top Security Options
RiP Security has partnered with AERAS, a drone company setting the standard for the industry. AERAS applies research to drone technology to find what the newest use of drones could be. They were the first company in the United States to be certified by the FAA to use drones to sanitize large venues against COVID-19. This same research has put AERAS at the forefront of utilizing drones for human safety and security.
Learn more about RiP security and surveillance services, and contact us to learn how we can help keep your facility safe!