Why Outsource Security Guard Services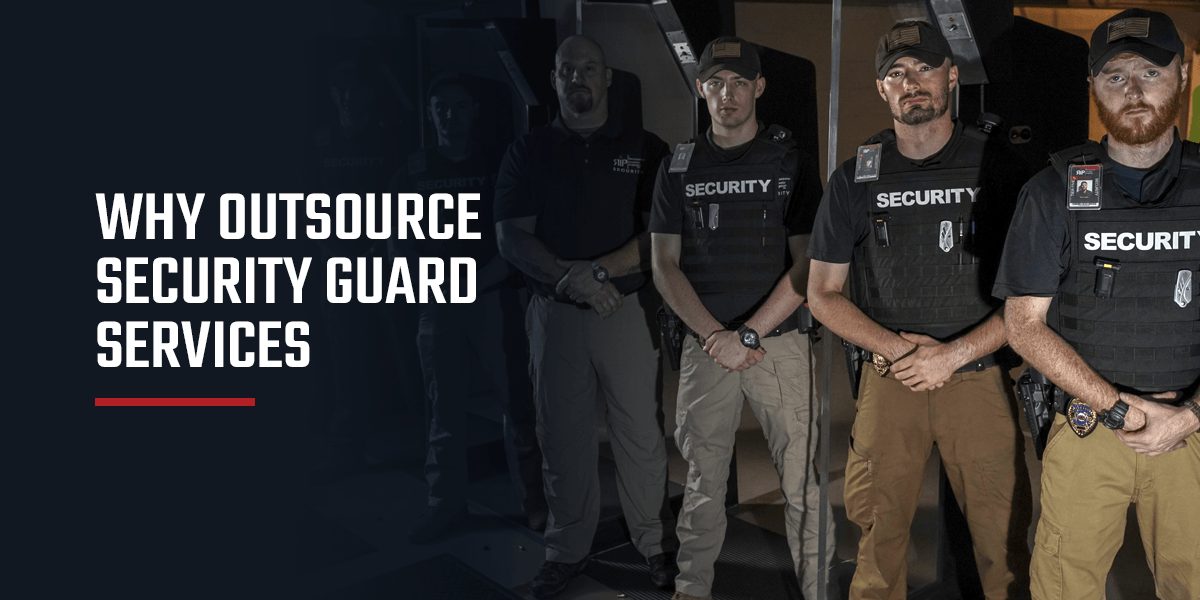 Outsourcing company operations is one way many businesses improve efficiency. You might think to contract human resources, payroll management and marketing services before you think of security. At first thought, an in-house security team might seem like the better option. However, a professional security team can significantly benefit your company in unanticipated ways.
Services from a security firm can provide major advantages to your enterprise. In addition to lower training costs and a higher level of expertise, hiring a security company to handle protecting and preventing damage at your company can also decrease your risk and liability.
7 Reasons to Outsource Security Guard Services
The outsourced contract security services market has steadily grown since 2014. This growth directly reflects the numerous ways an external security guard service can help your business endeavors. Here are seven reasons why you should consider outsourcing your security needs.
1. Lower Costs
Saving money is an important consideration for businesses. All companies want to prevent loss of products, protect employees and customers and avoid lawsuits. This level of protection requires a preventative approach to security that involves more than just the physical presence of guards during company hours.
Building a security team on a budget might seem like the best decision financially, but the opposite could be true. The cost of building an in-house team includes equipment, uniforms, vehicles, technology, insurance and other overhead expenses. These expenditures can quickly add up. Managing your company's security yourself can also cost you time you could have spent more efficiently elsewhere.
A well-trained and fully-equipped security team comes prepared to handle your security needs. Turnkey security solutions provide knowledge and skill that take years to develop. A security company can save you the startup costs of building a team from scratch.
2. Outsourced Hiring and Administrative Duties
Many business owners likely don't have the experience and knowledge to find effective security guard services. Locating the right talent takes an insider's understanding of the security needs of your company and a sharp eye for potential risks.
Specialized security firms hire personnel they know will perform at a high level. Security companies screen their employees to ensure they hire the best team possible. With their professional security understanding that spans facilities and industries, a security company can provide you with the peace of mind that your security team is full of skilled professionals.
When you partner with a security guard company, you also remove the burden of needing to oversee administrative tasks like finding replacements. If your business needs a last-minute substitute for a night shift, the security company will handle finding a stand-in. With a dedicated team helping you manage your company's security every step of the way, you can spend more time focusing on your business.

3. Expertise and Experience
Your customers turn to you because you're an expert in your business. The same holds for a security company. When you hire a professionally trained and equipped security company, you can rest assured that security is their primary expertise. It's their business, so they've prepared and trained for it as your employees do for their own work.
Experience is an essential quality of an efficient security team. When an adverse situation like a natural disaster or other emergency scenario occurs, you want your employees and customers in capable hands. That's why you need security guards who have been in those situations before and have undergone training to handle them effectively.
A dedicated security company will also have a dedicated safety team that knows how to assess your company's security needs and recommend a plan that fits. Customized solutions from a team of experts can put you ahead in anticipating and planning for adverse conditions.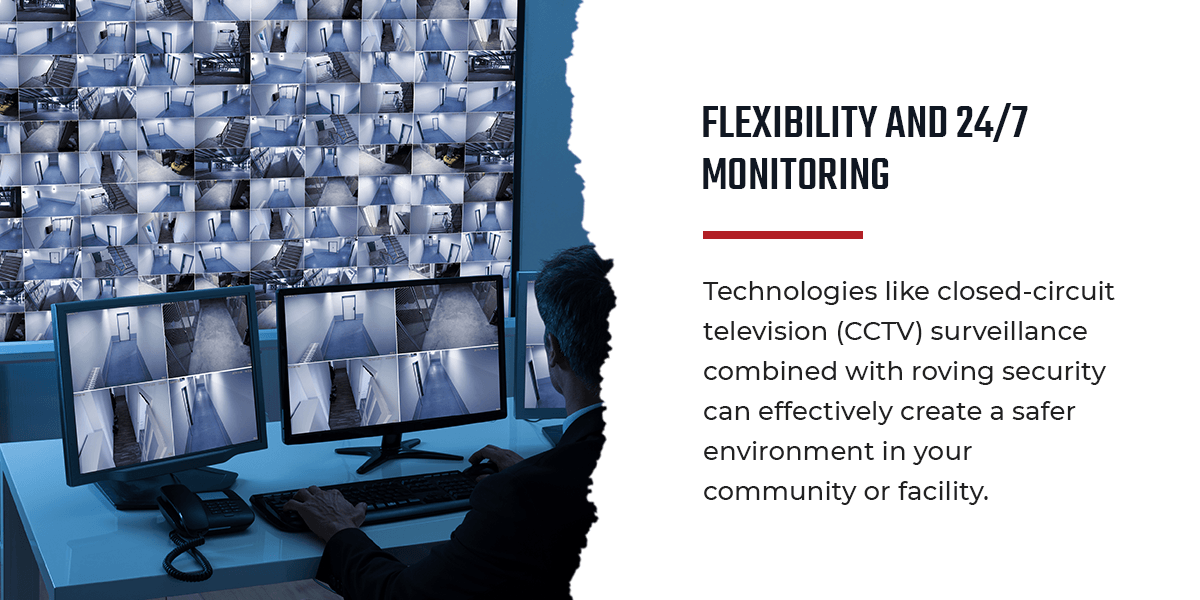 4. Flexibility and 24/7 Monitoring
When you work with an outsourced security company, you benefit from their flexibility to meet the security needs of your company as they change. If your company hosts a large event or experiences an emergency threat, an in-house team may not have the labor or resources to mitigate the danger safely. You need a robust security force with the equipment to handle the job and a pool of highly-skilled guards to rise to the challenge.
An outsourced security firm can provide you with as many additional guards during special events as you deem necessary. They can send in temporary quick response guards, armed or unarmed, to respond to quickly unfolding scenarios. You can also secure services for high-profile individuals and transports that require extra protection.
A large job site or facility can be challenging for personnel to physically monitor around the clock. Threats can arise from anywhere, at any time. A thorough monitoring system is essential to maintaining safety on all parameters. Outsourced security companies can provide mobile security services for site-wide protection. Technologies like closed-circuit television (CCTV) surveillance combined with roving security can effectively create a safer environment in your community or facility.
5. Training and Reliability
Training highly skilled security guards requires a significant time investment. Depending on the security situation your team may face, you might need to prepare for unauthorized access, attempted theft, an active shooter, natural disasters or other kinds of adverse situations. Each of these scenarios demands a customized approach that involves flexible training.
Security companies make it their mission to train their personnel to protect and defend your business efficiently. World-class security teams provide high-level expert protection for all kinds of companies and venues, including manufacturing plants, medical facilities, warehouses and more. When you work with a security firm, you get a professional commitment to protecting your property and loved ones.
When it comes to security, you want a reliable team you can count on. If you use in-house security guards, they may not be able to work at the hours you need them. If a worker calls in at the last minute or becomes sick, you may not have a sufficient workforce to replace them quickly. A security guard company has an extensive crew that can provide backup to secure your facility when you need it most, whether during regular business hours or when everyone else is off the clock.
6. Decreased Risk and Liability
Reducing risks is a high priority when you have valuable merchandise or equipment to protect. Companies invest a great deal to prevent situations that violate OSHA requirements or otherwise create an environment where loss is more likely to occur. Your company's risk increases when inexperienced personnel is ill-equipped to handle situations well.
An in-house team can increase your liability costs. When you add security guards to your payroll, you'll need to obtain liability insurance to protect your company from lawsuits. If one of your security guards sustains an injury from a weapon malfunction or other confrontation, insurance costs could come out of the company's pocket.
When you use a security company, they provide their employees with insurance, so you don't have to worry about the additional cost. They will also absorb some of your risks by offsetting the cost of liabilities.
7. Outsider Perspective and Reports
Risk mitigation is an integral part of comprehensive security at your business or facility. You train your employees to meet safety compliance regulations so you can maintain a safe work environment. It would be helpful if your security guards were also aware of health and safety requirements, so they could help you avoid potentially hazardous situations.
At RiP USA, our security team actively reduces all threats, even common ones you might overlook. RiP offers unique-in-the-industry litigation mitigation, a service designed to help companies find and mitigate safety hazards. For example, if one of our guards notices a violation of OSHA requirements during one of their rounds, they will alert the company, helping them save money from potential lawsuits and fines.
RiP goes beyond compliance to deliver customized security solutions. With RiP as your security partner, you can access expert-level threat detection and daily reports, so you're always prepared.
Get in Touch With RiP for Your Enterprise Security Needs
When it comes to protecting the things that matter most, you can benefit from a security partner whose sole purpose is to meet your needs and ensure your safety.
RiP USA offers personalized physical protection services for your site to prevent and reduce potential dangers. Our comprehensive approach combines mobile monitoring, on-the-ground security teams and high-level risk mitigation, so you get reliable and effective security services.
Contact RiP today to speak with our team about your security options.