What's the Difference Between Armed and Unarmed Security and Which Is Right for You?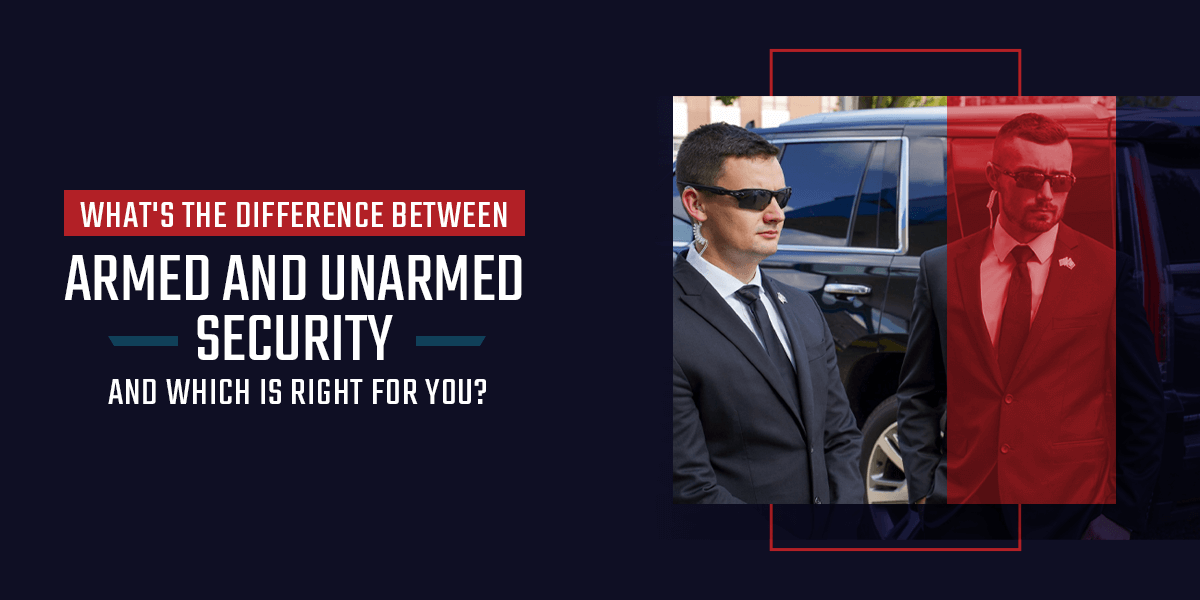 If you own a business, the last thing you want is for crime to get in the way of your success. It is important to have an actionable plan that keeps you, your employees and your customers safe. Corporate security and risk management services offer fast-acting protection. Whether it be through access control, surveillance, de-escalation or unauthorized access prevention, you need a tailored solution to prevent crime in your workplace.
With safety issues at the forefront of so many minds, it is important to understand how you can best protect your business and your customers with different types of security guards. When looking for a guard, the differences between armed and unarmed security guards go beyond weapons, and there are many other considerations to account for.
Armed Security Guards
Armed security guards are over 18 years old with a high school diploma and a clean criminal record. Some are required to have a criminal justice or political science degree. They usually carry a firearm and have been extensively trained.
The greatest distinction for armed security guards is that they are cleared to use deadly force if necessary.
Armed guards bring a sense of calm and security to customers in a business. However, if people feel like they are there unnecessarily, this can set off a feeling of unease. These situations are better suited for an unarmed guard.
Unarmed Security Guards
An unarmed security guard's duties are less intensive than an armed guard's, and they do not carry a firearm. They often carry non-lethal weapons like batons, pepper spray or tasers.
Unarmed guards are best suited for situations in which an armed guard would create a feeling of unease but so would having no guard at all. In those circumstances, their presence alone will normally deter crime.
These guards also can assist your customers with other miscellaneous tasks. Whether that be escorting individuals to their cars after dark, giving directions, keeping people out of restricted areas or working at a front desk, unarmed guards can do more than provide security.
What to Consider
There are many things to consider when choosing whether to hire armed vs. unarmed security, and all of these factors come down to your business.
How Risky Is Your Business?
Certain aspects of your business may or may not constitute hiring an armed guard over an unarmed guard. Here are some things to consider.
Merchandise: Does your business have high-end merchandise or other expensive assets?
Cash: Does your product or service lend itself to being paid for in cash?
Events: Do you often host publicized events?
Transportation: Does your business require your products to be transported often?
Sensitive information: Does your business often deal with sensitive or confidential information?
Location: Is your business in an area known to deal with a lot of crime?
If these things are true of your company, it may be best for your employees' and customers' safety to hire an armed security guard. However, if these things aren't necessarily true, it may make more sense for you to hire an unarmed security guard.
What Type of Business Do You Run?
Security guards are hired in a wide variety of settings. From retail stores to hospitals, seeing security guards is a common occurrence. There were over 1 million filled security positions in the United States in 2017, with 55,000 more expected to be created over the next several years.
Because of this prevalence, you likely won't need to worry about whether having a security guard will be unnerving to your customers, as having this form of protection is so common. Rather, the question is whether the guard should be armed. However, do keep in mind that this depends on what kind of business you own.
If your business sells high-end merchandise, customers will not be alarmed to see an armed guard. Other businesses such as banks, hospitals, schools or churches will have the same impression.
However, an armed guard in businesses that are kid-friendly, recreational or low-cost will not usually be expected. The presence of one could create a feeling of discomfort in those situations.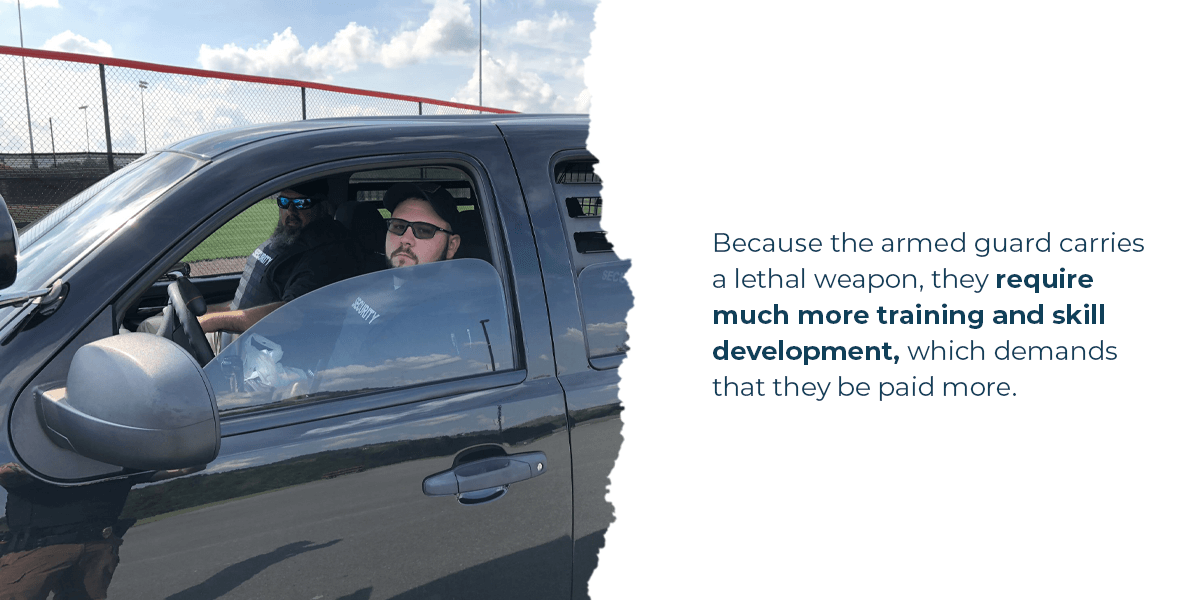 What Is Your Budget?
For the most part, armed security guards will tend to be more expensive to hire than unarmed ones. Because the armed guard carries a lethal weapon, they require much more training and skill development, which demands that they be paid more. They are also likely in a situation with a higher risk of injury or death than an unarmed guard is, which also lends itself to higher pay. This circumstance also means you would need to get liability insurance to protect your business.
On the flip side, unarmed guards do not require as much training or liability insurance, so they are more affordable to hire. Because they have less training, an unarmed security guard's duties and responsibilities are not as intensive, and they do not need to be paid as highly as armed guards.
If you've determined from the criteria above that an armed security guard is unnecessary for your type of business, hiring an unarmed guard is most likely a more cost-effective choice that will lend your company several advantages.
Hire RiP Security Guards for Your Business
At RiP Security, we strive to provide protection in the event of an emergency, and we actively work to mitigate risk for your business. We believe preventing any threat to your business is better than just responding to it. Even if it is not a direct threat to your or anyone else's safety but rather a violation, we will notify you no matter what. Our corporate security guards will provide security to your workplace in many ways, ensuring you get the following benefits:
Minimized workplace crime.
Fast response times.
Protection whenever your business is open.
Fewer security risks.
Highly trained guards.
Peace of mind for you, your employees and your customers.
When you contact us about hiring armed or unarmed security guards, we will work with you to determine any current risks facing your workplace and develop a course of action to respond to and fix these issues. We care for you and your employees by building your trust in us to take care of the hypotheticals so that you don't have to worry.
Once you decide whether to hire an armed or unarmed security guard, contact us and tell us which service you are interested in so we can connect you with the right guard for you. You can also call us at 1-833-i-NEED-RiP.