A Path To A New Standard From The Tragedy In Denver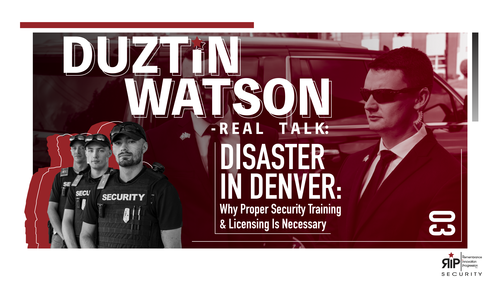 In Denver, on October 6th, Lee Keltner was tragically killed in broad daylight by Matthew Dolloff, an unlicensed "security guard" hired by a news station covering an organized protest. The fatal shot occurred after Mr. Keltner slapped Mr. Dolloff in the face. Too many people explained what happened as a mistake. That's just ludicrous. The events of that terrible afternoon can only be described as a terrible failure.
A mistake, according to the dictionary, is "an action that is misguided" while a failure is the "lack of success" or "the omission of expected or required action." Ending another man's life certainly equals a lack of success, but his employers' omissions put him there in the first place. Either way, both failures happen way too often. Can we change these awful trends? Absolutely. Like anything worth being or having, it begins with standards.
We live in America, where capitalism rules – which is totally fine by me – but one of the problems with that system is the degradation of quality. We've all experienced a phone or computer that just never quite worked properly, right? In a relentless effort to maximize profit, corners get cut. Well, the security business is no different.
Mr. Dolloff didn't actually work for the company the news station hired, but I could have told you that before the media reports. Just like the tech industry, there are giant security companies that contract to provide services but then sub-contract the work, which is often sub-contracted again. However, instead of a wonky phone, you have an unreliable and unvetted security guard.
Additionally, Mr. Dolloff wasn't a licensed security guard. In Denver, every security guard must be approved for the use of a firearm, obtainable only after extensive use-of-force education. In that training, the direction for what occurred would not include lethal force. Moreover, if any of the companies involved in hiring him completed a simple internet search, red flags were present.
Basically, Mr. Dolloff was an unchecked, untrained, unlicensed, random guy who was probably drawn to gun ownership by the gun-nerd culture. (For more on the ego-driven masses flocking to gun ownership, check out our blog here.) In other words, a needless, abject failure from the top-down. In its wake, a life was lost, another ruined, and a community left traumatized; and soon, a slew of businesses dealing with potential liability.
Yet, there's nothing worse than talk without action. So, we at The RiP Group pledge to blaze the path for effective national standards geared towards positive outcomes in our occupation. We're doing this for our clients, employees, profession, and community because we cannot afford any more failures. Or even mistakes, for that matter. Our future depends upon it.